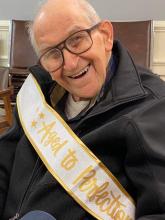 SALAMY, Alfred Essa, age 90, of Pettus, West Virginia passed away Wednesday, November 16, 2022 at home. He was born on September 30, 1932 in Charleston, West Virginia to Louis and Aileen [Zegeer] Salamy, the first of two sons. As the son of a Lebanese immigrant, Alfred was proud of his heritage and traveled with his family to Beirut, Lebanon in 1950 as a teenager. He would later recount the many exotic locations and amazing sites he experienced while visiting Lebanon and Egypt, including the Great Pyramids of Giza. Alfred attended Whitesville Elementary and later the prestigious Greenbrier Military School in Lewisburg, WV, class of 1950. During these years, he also proudly attained the rank of Eagle Scout, the highest youth award in the Boy Scout Division of the BSA, an honor only 4 percent of members ever achieve. He attended college at West Virginia University (WVU) in Morgantown in the early 1950s where he earned a Bachelor's degree in Electrical Engineering with an emphasis in radar systems. After graduating WVU, he joined the United States Navy in 1956 where he served in the rank of 2nd lieutenant [LTJG] and was stationed on the USS DuPont (DD-941) during the Korean conflict, crossing the equator on several occasions during peaceful times. Following an honorable discharge from the US Navy in 1959, Alfred began working for Syracuse University Research Corporation (SRC) and then General Electric in Syracuse, NY as a radar engineer specialist in 1961.
While in Syracuse, NY, he was introduced by friends to his future wife, Beverly, a registered nurse, whom he married in December 1962, sharing their lives for almost 40 years until Beverly's passing in 2002. He and Beverly had three children while making their home in Syracuse: Debra [Paul Scholz] of Silver Spring, MD; David [Shelby Auippa] of Marion, TX; and Karen [Douglas Au] of Santa Cruz, CA. In 1976, Alfred and family moved back to his hometown of Whitesville, WV to be closer to his parents and to work with the family's furniture business. He would later become the operational manager of Dixie Furniture after the passing of his father in 1996.
Alfred was a well-known resident and business owner in the Whitesville, Boone County, and Raleigh County, WV areas for the last 46 years. He served on the Board of Trustees for the Whitesville State Bank since 1997; served as the Director spearheading the development and construction of the Mountain Terrace 35-unit Senior Apartment facility in Whitesville; and he worked tirelessly and with great enthusiasm on the "Turn This Town Around" revitalization effort for his beloved Whitesville — which the town won in 2014. Alfred was known for his amazing "steel-trap-like" memory and was extremely interested in family ancestry (his and others), often proudly introducing 2nd and 3rd cousins that did not know they were related in and around the town of Whitesville. He was a strong advocate for the Raleigh County public school system, especially during the years his children attended, and almost never missed a meeting (despite the 40+ minute drive to Beckley each way) to voice his opinions or concerns at every county Board of Education meeting. Over the last 40years, he belonged to the Whitesville Presbyterian Church and attended often with his wife and family where he served as a Deacon. He was also a proud member of the FreeMasons / Masonic Lodge #168 and the Lion's Club in Whitesville.
Alfred is predeceased by his wife, Beverly [Cowan] Salamy, his parents, Louis and Aileen Salamy, and his brother Raymond. He is survived by his three children: Debbie and her husband Paul, David and his wife Shelby, and Karen and her husband Douglas; his five grandchildren: Stephanie Scholz, Audrey Scholz, Devon Scholz, Emerson Au, and Layton Salamy; sister-in-law, Joyce Salamy and family, nephew Fr. Christopher Salamy, and niece Michelle Moujaes; his niece Kimberly Boyington and nephew Timothy George Pash IV; and the many other cousins, grand-nephews and grand-nieces in West Virginia, across the United States, and abroad.
There will be a visitation for those who wish to say their final farewell to Alfred onSaturday, November 26, 2022 at the Armstrong Funeral Home in Whitesville from 1 to 4 p.m. His family will hold a graveside service in mid-January 2023 so that all will be able to attend following the holidays. In lieu of flowers for the visitation, please consider a donation to Alfred's favorite charities in his name: The American Cancer Society, the Kfeirian Reunion Scholarship Program (kfeir.com/scholarship-recipients.html), or to the Town of Whitesville for community revitalization efforts (www.taxexemptworld.com/organizations/whitesville_wv_25209.asp).