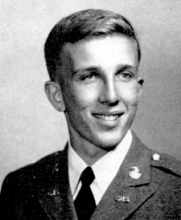 CAPT William H. Hamilton, Jr. US navy (Ret.), 89, passed away on November 23, 2016. He was a native of San Diego, CA and was the son of the late Adm. William H. Hamilton, Sr. and Marjorie P. Hamilton.
CAPT Hamilton was a top graduate of Greenbrier Military School; top graduate of Bullis Preparatory and is mentioned in the history book of Bullis. He was a 1949 graduate of the US Naval Academy and was a US naval Aviator thru the Korean War. CAPT Hamilton entered UDT in California and became the Chief of UDT of the East Coast. He was then ordered to the Pentagon to organize a Special Ops group, which was named SEALS, making him the "Father of the SEALS". The CIA then recruited him for 6 years. After the CIA he returned to the Navy. His book "Night Fighter" was just released and it covers his life from Korea to SEAL Team 6.
Survivors include his wife Barbara, his children; Jean, Bill and Jan, 6 grandchildren and 7 great grandchildren.
Services will be held at Arlington National Cemetery, date to be determined.
H. D. Oliver Funeral Apts. is handling arrangements and online condolences may be offered to the family at hdoliver.com.
Published in The Virginian Pilot on Nov. 27, 2016